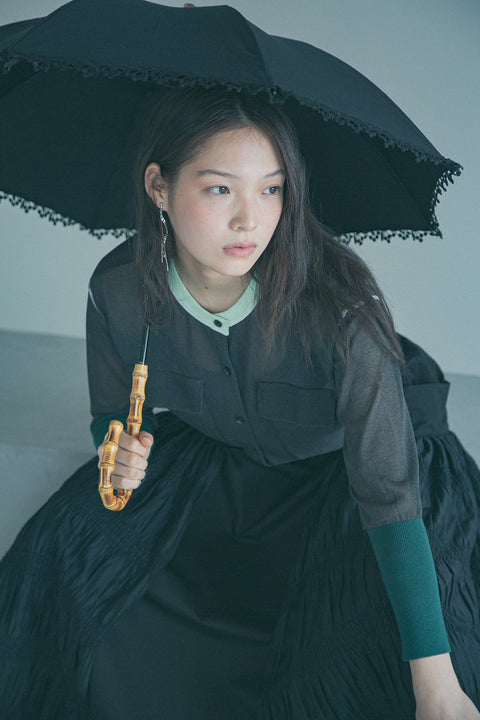 YUKI SHIMANE × Omori store
【notice】
YUKI SHIMANE × Omori store
Knitwear and women's wear brand
YUKI
SHIMANE
I made a rain or shine umbrella
with
The YUKI SHIMANE
23SS exhibition
will start accepting orders from
Friday, September 30th
.
From October 7th, we will start accepting orders at the online store.
The main body of the umbrella has a rough matte texture, and the back side is made of satin fabric. Originally dyed lily of the valley cotton lace borders.
The fabric is treated with UV water repellent, so it is the size of an umbrella that is easy to use on both rainy and sunny days.
You can choose your favorite handle from 5 types including new ones.
[YUKI SHIMANE 2023S/S Collection]
"foggy silence"
︎Tokyo
September 30 (Friday) - October 5 (Wednesday)
11:00 - 19:30 (first day only 14:00- / last day - 18:00)
at
QF gallery
1-3-2 Jinnan, Shibuya-ku Kuboi Building 3F
4 minutes walk from Shibuya station B1 exit, 8 minutes walk from Harajuku station
︎Osaka
October 8th (Sat) - October 11th (Tue)
at
Scheduled dates for designers to be in store: 8th and 9th
Fukuoka
Friday, October 14 - Tuesday, October 18
at
︎web order
October 7 (Friday) - October 16 (Sunday)
Umbrellas are scheduled to be delivered around mid-May 2023.
YUKI SHIMANE
For supple and free women who wear a somewhat delicate and nostalgic atmosphere
Knitwear and womenswear brand.
In 2014, graduated from BA Knitwear Design at Central Saint Martins School of Art in London.
Gained experience in multiple London-based brands while in school.
After returning to Japan, he was in charge of knitwear production for domestic brands.
Started his own brand activities in the fall of 2016.