U03 Nムジ 55cm折(LH傘袋付き)
Regular price

¥18,700
Sale price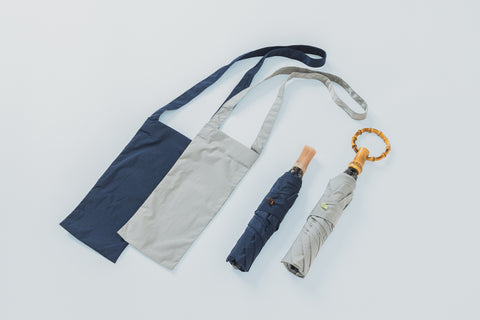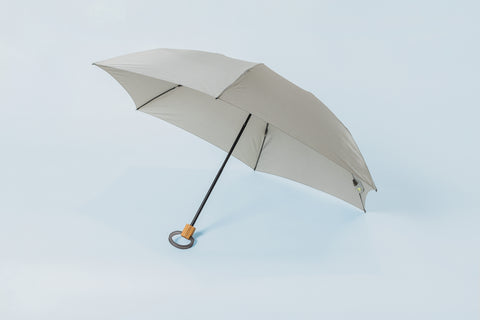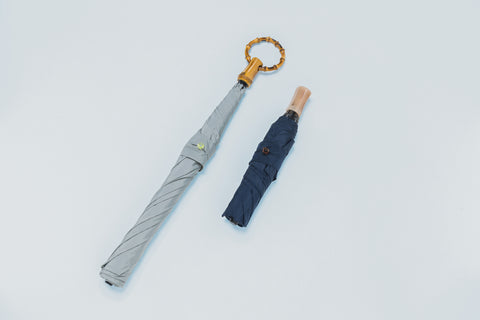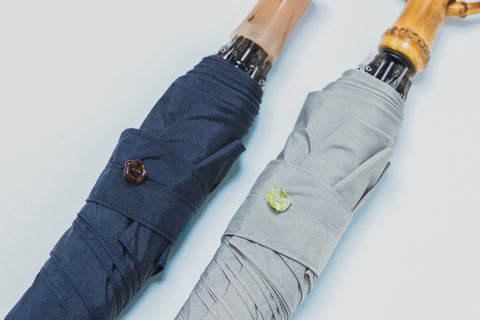 U03 Nムジ 55cm折 (LH傘袋付き)
コンパクトな雨傘ができました。
雨が降りそうな時にも、かばんに入れておけるような、かさ張らない傘。
細番手の糸で高密度に織りあげた生地は薄く、ぱぱっと畳んでもシワが目立ちにくいです。骨の一部にカーボンを使用しているので軽い仕上がりになりました。
長傘のように長いままでも、折りたたんでも使用でき、留め具をぎゅっと畳むと細身になります。
傘袋は持ち手が長いので肩からかけてお持ちいただけます。
折りたたみ傘なのでハンドルをご自身でカスタマイズできます。
ーーーーーーーーーーーーーーーーーーーーーー
▽傘生地の素材 ナイロン100% 
        撥水+アクリルコーティング
▽親骨のサイズ 55cm(カーボンファイバー)
▽傘の直径   約93cm
▽傘袋の持ち手の長さ 約40cm
ハンドル名 (素材)
全長/重さ
▼子アヒル(楓)
30cm/180g 
▼BG VASE(アクリル)
27cm/190g
▼ヒノキ小(ヒノキ)
25cm/180g
▼花彫刻(楓)
25cm/170g
▼スモークリング (楓/アクリル)
33cm/190g
▼ねじりリングB (楓/アクリル)
33cm/190g
▼竹リング(竹)
33cm/170g
ハンドル写真上段左より(子アヒル・BG VASE・ヒノキ小・花彫刻)
ハンドル写真下段左より(スモークリング・ねじりリングB・竹リング)
Please check before purchasing.
About umbrella
▼If you have a wet umbrella, spread it out and dry it in the shade. Do not leave it wet in the bag.
▼ When not using the umbrella, store it in a bag in a well-ventilated shade. (It is not recommended to store in places with high humidity such as washrooms.)
▼The surface of the umbrella fabric is treated to be water-repellent to prevent temporary stains, but dust will stick to it, so please brush it lightly before storing it.

◎The size of the umbrella is the size of the main rib.
Parasol・・・・・・40cm/47cm
Umbrella for rain or shine 47cm/50cm
Umbrella・・・・・・・55cm/60cm
About the handle
▼The handle is made by hand using natural materials. Please enjoy each individuality. Everything is hand-made, bent and cut. We have installed both of them that meet the standards, so you can not choose. The total length and weight vary depending on the handle, but there are individual differences even with the same one. The color may differ slightly from the image depending on the monitor. We appreciate your understanding.
Natural wood (bamboo, rattan)
▼Because it is a natural material, the material is not uniform and there are always small scratches and repair marks. The color of the bamboo, the number of knots, the thickness, etc., vary considerably even among the same bamboo. Therefore, the weight and size are also different. Please use this as a guideline. Even if the bamboo loops are bent in the same way, the thickness is different, so there is a difference in the inner diameter size. note that.

Sawn wood (maple, etc.)
Lot differences in color may occur due to color differences due to wood grain and manual work. Engraved items (animals, etc.) will have individual differences, so please enjoy this as well. Even with the same material, the wood grain may appear darker or lighter when dyed.
acrylic
All are cut and twisted by hand. There may be individual differences in the ring part. In addition, the appearance of the shade of the color is different for each acrylic Bekko style and beige color. Thank you for your understanding.